Christmas. Can you believe it is just around the corner? When you say the word Christmas, what does it make you think of? For me, it brings back memories of The Sound of Music. As a child, I remember sitting down to watch this every year with my family. Music is a joyful thing and with that, here is a post of musical Christmas crafts, musical looking that is.
What you need is sheet paper, double-sided tape and string. Then, cut out 12 circles and fold them in half. Use double-sided tape to connect the folded circles together; eventually shaping a ball. Create a loop with string and secure it with tape or hot glue if you'd like.
For those of your who like to get their hands dirty, this one is for you. What you need is some old round ornaments you can't stand to look at anymore, or just plain old ones (maybe spring for the plastic ones so they last longer). Grab some sheet music, an old paint brush, glue, glitter, ribbon and a bell. Just a quick note, if you want to simplify this, just nix the bell and the glitter and stick with the basic concept. I am sure your ornaments will look fantastic either way.
Rip up the music sheets into strands and start gluing them onto your ball. Make sure to overlap the strips and press them down so they stick. When your done, paint the hanging piece with glue and dip it in glitter. Secure your bell on with string and attach a hand written note like "Noel" for an added touch. Finish by tying a bow and add string for hanging.
FYI, if you want to be a hard core crafter, instead of using glue, you can pick up this stuff called
mod podge
. It's an all-in-one glue, sealer and finisher. It even comes in different finishes like glitter, sparkle, gloss, matte, shimmer and satin. WHOA!!!!!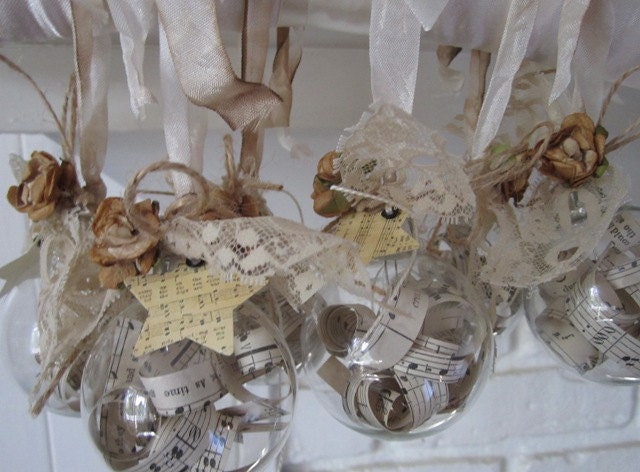 Now, if you're at the store picking up some plastic ornaments of the previous craft, pick up few more for this one. I don't really need to tell you much on the details of this craft as I think it is self explanatory. All you need to do is cut strands of sheet music and insert them into the ball. As in this picture, you can finish with lace, but if it were me, I would rather bling this baby up with sparkly wired ribbon.
By: pillsbury_girl